The Lemon Street Schools Oral History Collection, Marietta City Schools System, 2019-2021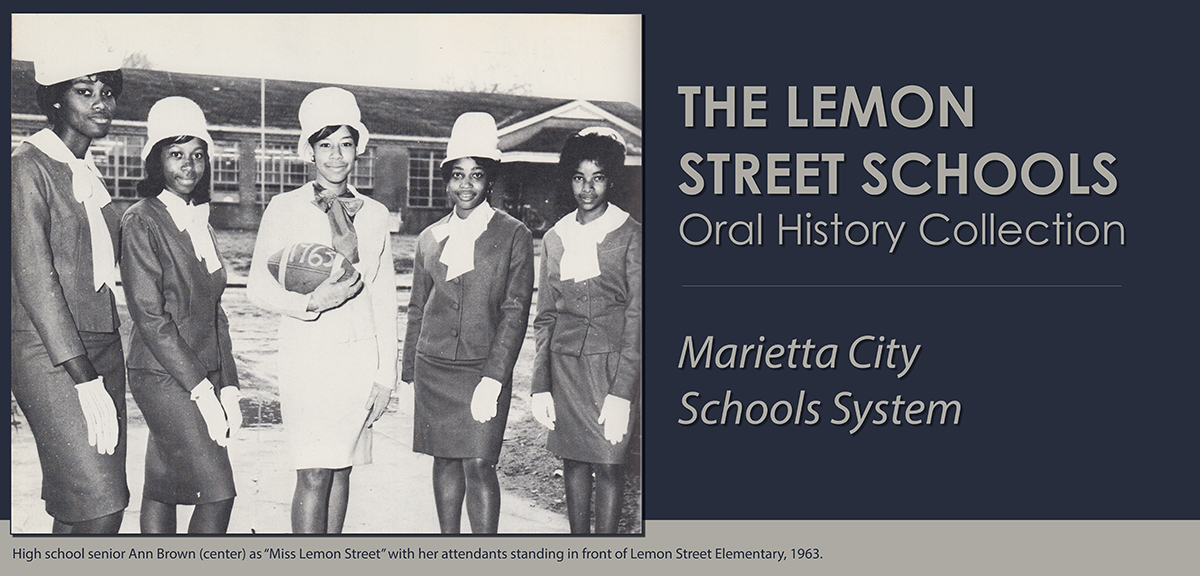 In 2019-2021, the Marietta City Schools system partnered with Kennesaw State University's Department of Museums, Archives, and Rare Books to develop exhibits in the system's new central office on Lemon Street and in the former Lemon Street Elementary School. Included in the research and curatorial process is an ongoing oral history project with alumni and former educators at Lemon Street Elementary School and Lemon Street High School. Participants share oral history interviews and historical photographs and documents.
Related collections include:
The digital reproductions on this site are provided for research consultation and scholarly purposes only. Copyright is retained by the authors of items as stipulated by United States copyright law. To request permission to publish, reproduce, publicly display, broadcast, or distribute this material in any format outside of fair use please contact the Kennesaw State University Archives and/or copyright holder.
Collections in this community
Recent Submissions
(

Kennesaw State University Archives

,

2021-08-06

)

Viola Rice Evans and unidentified people, September 19, 1958

(

Kennesaw State University Archives

,

2021-08-06

)

Viola Rice Evans and Will Evans, September 19, 1958

(

Kennesaw State University Archives

,

2021-08-06

)

Cole Street Missionary Baptist Church Sunday School class

(

Kennesaw State University Archives

,

2021-08-06

)

Lizzie Rice and Lucille Rice, August 24, 1952

(

Kennesaw State University Archives

,

2021-08-06

)

Elzoria Holland Wingfield, ca. 1960s

(

Kennesaw State University Archives

,

2021-08-06

)

Charles Wingfield, Jr., ca. 1940s

(

Kennesaw State University Archives

,

2021-08-06

)

JoAnn Wingfield Mann, Patricia Wingfield Whatley, and Charles Wingfield, Jr., January 9, 1949

(

Kennesaw State University Archives

,

2021-08-06

)

Charles Wingfield, Jr., December 1945

(

Kennesaw State University Archives

,

2021-08-06

)

Lemon Street High School homecoming football game program, ca. 1960s

(

Kennesaw State University Archives

,

2021-08-06

)

Charles Wingfield, Sr., ca. 1940s

(

Kennesaw State University Archives

,

2021-08-06

)

Walker Foster and Tillman Foster, ca. 1940s

(

Kennesaw State University Archives

,

2021-08-06

)

Cole Street Missionary Baptist Church Boys Sunday School class, 1953

(

Kennesaw State University Archives

,

2021-08-06

)

Cole Street Missionary Baptist Church Girls Sunday School class, 1953

(

Kennesaw State University Archives

,

2021-08-06

)

Unidentified people, ca. 1950s

(

Kennesaw State University Archives

,

2021-08-06

)

Jennie Jones, Lemon Street Elementary School, 1957

(

Kennesaw State University Archives

,

2021-08-06

)

Tommy Zachery, Lemon Street Elementary School, 1957

(

Kennesaw State University Archives

,

2021-08-06

)

Ernest Christian, Jr., and Dorothy Winfrey Christian, ca. 1940s

(

Kennesaw State University Archives

,

2021-08-06

)

Cassie Martin, ca. 1950s

(

Kennesaw State University Archives

,

2021-08-06

)

Unidentified person, September 1955