The Lemon Street Schools Oral History Collection, Marietta City Schools System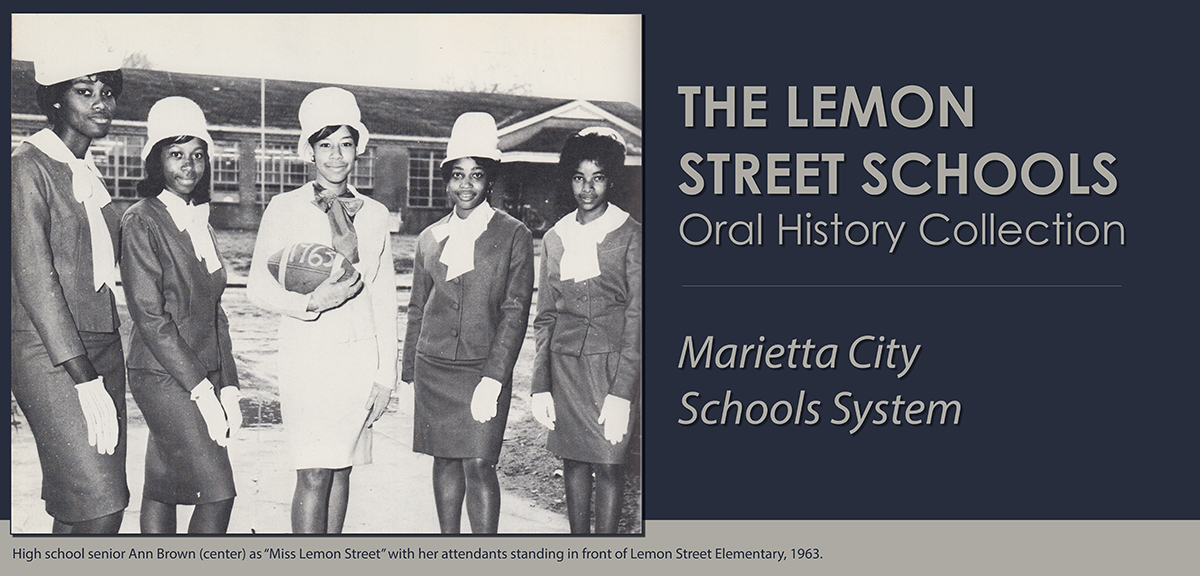 In 2019-2020, the Marietta City Schools system partnered with Kennesaw State University's Department of Museums, Archives, and Rare Books to create exhibits in the system's new central office on Lemon Street and in the former Lemon Street Elementary School. Included in the research and curatorial process is an ongoing oral history project with alumni and former educators from Lemon Street Elementary School and Lemon Street High School. Participants shared oral history interviews and historical photographs and documents.
Related collections include:
Lemon Street (Marietta, Ga.) photographs and calendar, circa 1940-2004
NAACP Cobb County Branch Records, 1947-2017
Cobb County NAACP/Civil Rights Oral History Series, 2009
The digital reproductions on this site are provided for research consultation and scholarly purposes only. Copyright is retained by the authors of items as stipulated by United States copyright law. To request permission to publish, reproduce, publicly display, broadcast, or distribute this material in any format outside of fair use please contact the Kennesaw State University Archives and/or copyright holder.
Collections in this community
Recent Submissions
Oral history interview of Marietta natives Barbara Freeman Cooper and Eartha Bryant Head, February 3, 2020.

Image of Barbara Freeman Cooper and her siblings, circa 1980s.

Anthony Coleman, Marietta City Council flyer, circa 2016.

Oral history interview of Marietta native Anthony Coleman, February 3, 2020.