KSU/SPSU History Timeline, 1947 - 2016
| | | |
| --- | --- | --- |
| dc.creator | Scott, Thomas Allan (1943- ) | en_US |
| dc.date.accessioned | 2016-09-14T16:02:09Z | |
| dc.date.issued | 2016-08-26 | |
| dc.date.issued | 2016-09-14T16:02:09Z | |
| dc.date.issued | 2016-09-14T16:02:09Z | |
| dc.identifier | ksu45-05-003-20160826 | en_US |
| dc.identifier.citation | KSU/SPSU History Timeline, 1947-2016, Thomas Scott Collection, Bulk 1975-2005, KSU/45/05/003, Kennesaw State University Archives | en_US |
| dc.identifier.uri | http://hdl.handle.net/11360/1894 | |
| dc.description.abstract | The KSU/SPSU History Timeline, 1947-2016 contains an in-depth chronological history of both Kennesaw State University and Southern Polytechnic State University. The two universities merged in 2014 as mandated by the University System of Georgia Chancellor Hank Huckaby, and the official consolidation took place in January 2015. This joint historical timeline was created by Dr. Thomas A. Scott, Professor Emeritus of History at Kennesaw State University and the official University Historian. | en_US |
| dc.format | application/pdf | en_US |
| dc.language.iso | en_US | en_US |
| dc.relation.ispartof | http://archivesspace.kennesaw.edu/repositories/4/resources/161 | en_US |
| dc.rights | The digital reproductions on this site are provided for research consultation and scholarly purposes only. The Archives has made every effort to describe what is known about copyright, rights of privacy and confidentiality, publicity, or trademark in its holdings. The copyright status for this item has been deemed unknown. The Archives may not grant permission to publish, reproduce, publicly display, broadcast, or distribute this material outside the boundaries of fair use. | |
| dc.subject | Kennesaw State University -- History. | en_US |
| dc.subject | Southern Polytechnic State University -- History. | en_US |
| dc.subject | Marietta (Ga.) -- History. | en_US |
| dc.subject | Kennesaw (Ga.) -- History. | en_US |
| dc.subject | Chronologies. | en_US |
| dc.title | KSU/SPSU History Timeline, 1947 - 2016 | en_US |
| dc.type | Text | en_US |

Files in this item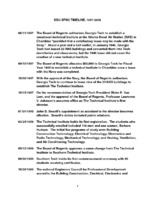 Name:

KSU-SPSU TIMELINE 1947-2016.pdf

Size:

531.1Kb

Format:

PDF

Description:

KSU/SPSU History Timeline, 1947 ...
This item appears in the following Collection(s)
KSU/SPSU Consolidation History
The KSU/SPSU History Collection is a growing collection of digital materials that document the history of Kennesaw State University from 1963 to the present, including the 2015 consolidation with the former Southern Polytechnic State University. Items within this collection come from holdings within the Kennesaw State University Archives.