Interview with Cecil Frey Bullard
| | | |
| --- | --- | --- |
| dc.contributor.author | Cawley, Mary Boswell | |
| dc.date.accessioned | 2021-03-23T15:57:50Z | |
| dc.date.issued | 1987 | |
| dc.date.issued | 2021-03-23T15:57:50Z | |
| dc.identifier | ksu-45-05-001-01003 | |
| dc.identifier.citation | Interview with Cecil Frey Bullard, 1987-05-26, Cobb County oral history series, Kennesaw State University Oral History Project, 1973- , KSU/45/05/001, Kennesaw State University Archives | en_US |
| dc.identifier.uri | https://soar.kennesaw.edu/handle/11360/5467 | |
| dc.description | Cecil Frey Bullard was born on October 14, 1900, the son of Calvin J. and Narcissus Frey Bullard. He attended A&M School (now McEachern High School) and was employed for 47 years by the Cobb County Sheriff's Department. At the time of this interview, he and his wife (Lois Matthews Bullard) resided in the Bullard homeplace, a pre-Civil War house on Dallas Highway In this interview, Bullard discusses the Bullard family as well as farming, education, law enforcement, and historic properties in Cobb County. He also discusses the impact of the Depression and World War II in Cobb County and the establishment of the Bell Bomber plant in Marietta. | en_US |
| dc.description.abstract | Cecil Frey Bullard was employed for 47 years by the Cobb County Sheriff's Department. Bullard discusses the Bullard family as well as farming, education, law enforcement, and historic properties in Cobb County. | en_US |
| dc.language.iso | en_US | en_US |
| dc.publisher | Kennesaw State University Archives | en_US |
| dc.relation.ispartof | http://archivesspace.kennesaw.edu/repositories/4/resources/195 | |
| dc.relation.isversionof | http://archivesspace.kennesaw.edu/repositories/4/digital_objects/954 | |
| dc.subject | Cobb County (Ga.) -- History. | en_US |
| dc.subject | Oral histories. | en_US |
| dc.subject | Transcripts. | en_US |
| dc.subject | Bullard, Cecil Frey. | en_US |
| dc.subject | Agriculture -- Georgia -- Cobb County -- History. | |
| dc.subject | Agriculture. | |
| dc.subject | Politics and government. | |
| dc.subject | Cobb County (Ga.) -- Politics and government -- 1901-. | |
| dc.subject | Georgia -- Cobb County. | |
| dc.title | Interview with Cecil Frey Bullard | en_US |

Files in this item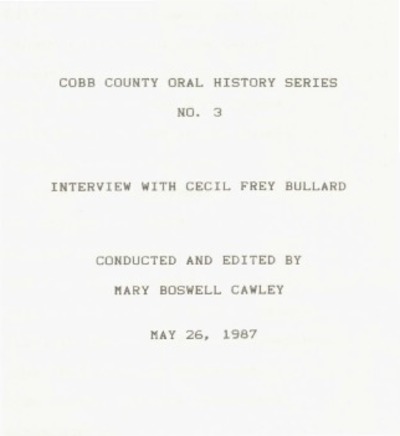 Name:

ksu-45-05-001-01003.pdf

Size:

4.316Mb

Format:

PDF

Description:

Cecil Frey Bullard oral history ...
This item appears in the following Collection(s)
Cobb County Oral History Series
The Cobb County Oral History Series was conducted by Thomas Scott, Professor of History at Kennesaw State University, and others, of prominent citizens of Cobb County, Georgia. The series was started in 1978 and interviews are still being conducted. The interviewees were people of various backgrounds from Cobb, Cherokee, Paulding, Bartow, Gordon, and Fulton counties.
North and Northwest Georgia Regional History
Oral histories pertaining to history of North and Northwest Georgia.