Southern voice, November 4 and 10, 1993
| | | |
| --- | --- | --- |
| dc.coverage.spatial | United States, Georgia, Fulton County, Atlanta | |
| dc.creator | Southern Voice (1988-2010) | |
| dc.date.accessioned | 2020-10-15T16:01:29Z | |
| dc.date.issued | 1993-11-04/1993-11-10 | |
| dc.date.issued | 2020-10-15T16:01:29Z | |
| dc.date.issued | 2020-10-15T16:01:29Z | |
| dc.date.issued | 2020-10-15T16:01:29Z | |
| dc.identifier | sovo-vol06no37 | |
| dc.identifier.uri | https://soar.kennesaw.edu/handle/11360/4028 | |
| dc.description | Southern Voice newspaper, also known as SOVO, was an alternative news source for lesbians and gay men in the greater Atlanta area and Southeast for over 20 years. It was a significant resource for the LGBT community in the Southeast from 1988 to 2010, providing in-depth information on topics such as the fight against AIDS, marriage equality, legal issues, workplace discrimination, and violence against gay individuals. Founded in 1988 with a bi-weekly circulation, it became a weekly publication in 1992, and remained so until its closure in 2010. | |
| dc.description.abstract | Southern Voice, volume 6, issue 37 | |
| dc.description.tableofcontents | Recovering identity : For lesbians and gay men, recovering from addiction requires dealing with the special circumstances surrounding their sexual identity -- Is Pride '94 in danger? : Debt and lawsuit from 1993 celebration could cause problems in staging next year's event -- Cobb Coalition : Despite setback on Galleria boycott, human rights group pushes on -- Anti-right event set for Saturday -- As anti-gay attacks intensify, Atlanta's P-FLAG picks up steam -- Gay teacher defends diversity class -- Gay Marine goes back to work -- Anti-gay forces target woman who defended gay paper -- News -- 'Lavendar screen' rates firms on gay/lesbian friendliness -- Editorial : Supreme Court may lead where politicians refuse to go -- Letters to the editor : Cracker Barrel stock fight includes straight allies -- Stonewall riots -- Southern queer-ies : The only measure is the love you leave behind -- GLAAD news -- Camper -- Long term surviving : Keeping faith in the future -- Chlorine targeted as cancer cause : Environmentalists and industry at odds over the seriousness of the threat -- Error found in breast cancer study -- Breakthrough in understanding KS : Unusual bacteria found in gay men may spur development of the cancer affecting blood vessels -- Chiles says AIDS "everybody's business" -- AIDS may devastate Australian natives -- Patrol group helps keep gays safe in Pennsylvania town -- Gingrich draws fire for supporting congressman who won't hire gays : John Lewis and Cynthia McKinney among colleagues who denounced Marietta congressman's comments. -- Occasions -- Obituaries -- Queers on film : The 1993 Atlanta Lesbian and Gay Film Festival features an international collection of films and videos -- Calendar -- Chris Coleman's new play debuts at Actor's Express : "Looking for a city" explores the trials of families facing break ups -- Black lesbian breaks through in the world of hip-hop : Me'Shell NdegeOcello's first album debuts on Madonna's label -- Bechdel is a dyke cartoonist to watch out for : Mo and the gang from "Dykes to watch out for" have caught on - even with straight people -- Restaurant listings -- Eat -- Dish -- Star signs -- The mostly unfabulous social life of Ethan Green -- Organizations -- Outlines : Cecily Walker -- Classifieds | |
| dc.format.extent | 44 pages | |
| dc.format.mimetype | application/pdf | |
| dc.relation.ispartof | https://archivesspace.kennesaw.edu/repositories/4/resources/245 | |
| dc.rights | The digital reproductions on this site are provided for research consultation and scholarly purposes only. To request permission to publish, reproduce, publicly display, broadcast, or distribute this material in any format outside of fair use please contact the Kennesaw State University Archives or the copyright holder. | |
| dc.rights.uri | https://creativecommons.org/licenses/by-nc-nd/4.0/ | |
| dc.subject | AIDS (Disease)--Social aspects--Georgia--Atlanta--Periodicals | |
| dc.subject | Civil rights movements--Georgia | |
| dc.subject | Gay activists--Georgia--Atlanta--Periodicals | |
| dc.subject | Gay men--Southern States--Periodicals | |
| dc.subject | Gay newspapers | |
| dc.subject | Homosexuality | |
| dc.subject | Homosexuality--Social aspects--United States--Periodicals | |
| dc.subject | Lesbians--Southern States--Periodicals | |
| dc.title | Southern voice, November 4 and 10, 1993 | |
| dc.type | Newspapers | |
| dc.type | Text | |
| dc.rights.holder | Copyright: David R. Thompson | |

Files in this item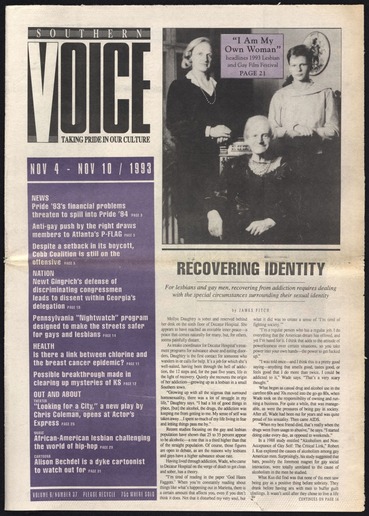 Name:

gkj_sovo_sovo-vol06no37.pdf

Size:

63.58Mb

Format:

PDF
This item appears in the following Collection(s)
Southern Voice newspaper collection, 1988-1995
A significant resource for the LGBT community in the Southeast from 1988 to 1995, providing in-depth information on topics such as the fight against AIDS, marriage equality, legal issues, workplace discrimination, and violence against gay individuals.

Except where otherwise noted, this item's license is described as The digital reproductions on this site are provided for research consultation and scholarly purposes only. To request permission to publish, reproduce, publicly display, broadcast, or distribute this material in any format outside of fair use please contact the Kennesaw State University Archives or the copyright holder.