Marion Thomas Collection, 1948-1980s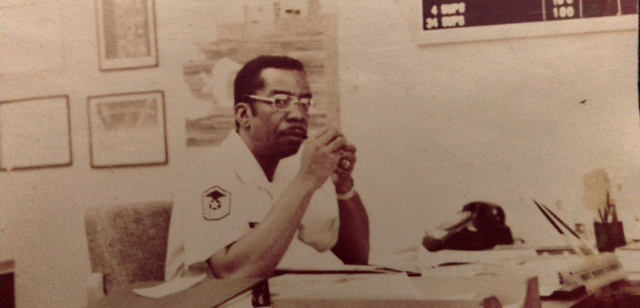 Marion Thomas was born on December 21, 1931, in Marietta, GA. He graduated from Perkinson High School (eventually renamed Lemon Street High School) in 1948. He enlisted in the United States Air Force (USAF) in 1949. Many times during his military service, Thomas was assigned to sensitive positions requiring access to Classified Defense information. While continuing to serve in the USAF, Thomas furthered his education at Midway Television Institute of Georgia on Auburn Avenue from 1953 until 1956 and later attended Marietta-Cobb Area Vocational Technical School (now known as Chattahoochee Technical College) from 1970-1979. In 1953, Thomas married Juanita Miller, with whom he had five children. Thomas retired from the USAF after thirty-five years of federal and military service, during which he earned the title of Chief Master Sergeant and received numerous awards and recognitions for his exemplary work. Thomas was the first African American to serve on the Board of the Marietta Housing Authority and held this position for eight years. Thomas was long-time member of Cole Street Missionary Baptist Church in Marietta where he served as chairman of the Deacon Board and as treasurer for many years. The Marion Thomas Collection was donated by Michael Thomas - son of Marion Thomas - and consists of materials related to Marion Thomas's employment at Dobbins Air Force Base, Georgia; his appointment in 1971 as the first African-American to serve in the Marietta Housing Authority; and personal items. Materials include letters, photographic prints, certificates, newspaper clippings, newsletters, books, and other items. A sampling of digitized materials from the full collection exists here on SOAR. The full collection is housed at the Kennesaw State University Archives.
Copyright for Official University records is held by Kennesaw State University; all other copyright is retained by the authors of items in these papers, or their descendants, as stipulated by United States copyright law. Permission to publish, reproduce, publicly display, broadcast, or distribute this material must be secured from the repository and/or copyright holder.
Recent Submissions